A variety of vehicles can be found on the streets of Mixopolis.
Types
Royal Coach
Main article: Royal Coach
Cars
Various cars can be seen on the streets of Mixopolis.
Buses
City Bus
A large city-faring bus can be seen stopped at the crosswalk of one of the streets of the Klinker district of Mixopolis.
School Bus
Main article: Bus
Trucks
As seen in concept art, a design for a Mack-like trailer truck was designed, but never utilized.
Trivia
Most of the vehicles have eyes and mouths, and appear to be sentient, as they can move their eyes and blink. However, various minor background shots use vehicles that lack the eyes and mouths.
Appearances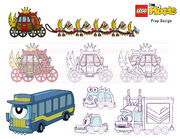 Community content is available under
CC-BY-SA
unless otherwise noted.