This article potentially contains non-canon material




While official, it is unclear whether or not all elements of this article are canon.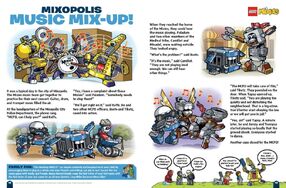 Mixopolis Music Mix-Up! is a short story in the March/April 2016 issue of the LEGO Club Jr. Magazine. As such, it is meant to be simple enough for younger children to comprehend.
Synopsis
In Mixopolis, the Mixies are practicing music for their next concert. Paladum calls the MCPD and begins reporting the three of them to Kuffs. Soon after, they headed to the Medivals' home. Busto asks Camillot what was going on, and Camillot claims that the Mixies are not playing their music loud enough.
Tiketz knocks on the Mixies' door, and when Tapsy opens up, Tiketz tells them that they can get sent to jail if they do not start disturbing the neighborhood with the volume of their music. Immediately after that, the Mixies begin playing their music loudly, and everyone starts dancing, closing the MCPD's case.
Characters
Main
Minor
Cameos
Trivia
A related story, also told in the LEGO Club Jr. Magazine, is Glomp's Gooey, Sneezy Cold!.
This story marks the first English-speaking lines of various characters, and the only English-speaking role of Paladum.
Errors
Jamzy's name is mispelled as "Jamsy" on the last part when Max is talking.
Camillot's arms are on the wrong sides.
The light on the back of Busto is white when the MCPD are running.
Tiketz doesn't have the white part of his helmet.