"Welcome... to public Mixel School!"
— King
Mixopolis Middle School, or Mixel School, is a public school building located in Mixopolis. The school is run by Principal Knave.
Description
Exterior
A statue of Professor Mixelpuss adorns the front yards.
Interior
Mixing 101 classroom
The Mixing 101 classroom mainly has a yellow color scheme for its walls, ceiling, and floor. Numerous brown desks are spread across the room where students sit. The front of the classroom is the Teacher's desk with a Planet Mixel globe and a few other school supplies. There is also a cabinet on the side of the room and a door next to it.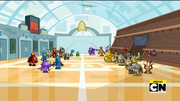 Gymnasium
The gymnasium looks like a standard gym with large bleachers, a court with a hoop, and a semi-circular blue and white ceiling with accents. There is also a large red timer and dark blue exits.
Also, when playing Murpball, the gym turns different vibrant colors.
Student Body
In alphebetical order.
Courses
Booger also implies that students might also have history classes.
Trivia
According to a clock on the streets, school starts at around 10:13 A.M.
Mixadel and Jamzy may not favor the school, as Mixadel called it "a dump" and Jamzy referred to it as "crummy."
The school also has a football team, according to a Facebook post.[1]
According to concept art, it was originally meant to be an elementary school, thus having the episode originally be about a younger group of students.
Gallery
Main article: Mixopolis Middle School/Gallery
Appearances
Other
Sources and References
Community content is available under
CC-BY-SA
unless otherwise noted.