Mixopolis is a city located somewhere on Planet Mixel.
Background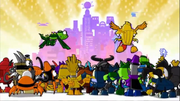 Mixopolis was quickly planned and built by the Weldos tribe on the site of the major battle against King Nixel and the Ultra-Miximum Max. After the battle, the Mixels involved didn't know what to do next. Kramm then appeared, laughed at how they fell for the Nixels' Mixamajig hoax, and presented to them the new city as construction was finished. Snoof remarked that it was amazing. ("A Quest for the Lost Mixamajig")
Mixopolis then began to bustle as many Mixels moved in. Districts and buildings were specially assigned to the themes of certain tribes. The Newzers of Mix TV started to record the experiences of the city's inhabitants. ("Breaking News") Meanwhile, school was also in session. ("Every Knight Has Its Day")
Locations
Mixopolis Arena
Mix TV recording studio
Movie theater

Districts

Educational institutes

Emergency buildings

Restaurants
Society
The city of Mixopolis has its own law enforcement, famous band, fire department, medical workers, cleaners, and news station.
Inhabitants
In alphebetical order.
Trivia
Gallery
Main article: Mixopolis/Gallery
Appearances
"Well, the big thing for third year of course is we're going into a city. It's gonna be something really cool, it's a new place. It's something called "Mixopolis", so the Mixels are entering a city environment, and anything can happen, basically. Loads of brand new tribes, really really fun tribes, actually. And lots of brand new fun, interesting stories. Going into a city environment has actually allowed us to explore the world of Mixels wide open. So the amount of tribes and the variety and differentiation is huge now. I think the potential for this city to really come alive is massive."
Season 2
Season 3
Games
Other
Mixels Websites

Breaking News

Mixies Drummer in Five-Hour Marathon Solo

Mini Movies

Wild Cookironi Chase in Downtown Mixopolis!

LEGO Club Magazines