Mixopolis (briefly Nixopolis) is a city located somewhere on Planet Mixel.
Background
Creation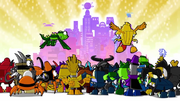 Mixopolis was quickly planned and built by the Weldos tribe on the site of the major battle against King Nixel and the Ultra-Miximum Max. After the battle, the Mixels involved didn't know what to do next. Kramm then appeared, laughed at how they fell for the Nixels' Mixamajig hoax, and presented to them the new city as construction was finished. Snoof remarked that it was amazing. ("A Quest for the Lost Mixamajig")
Mixopolis then began to bustle as many Mixels moved in. Districts and buildings were specially assigned to the themes of certain tribes. The Newzers of Mix TV started to record the experiences of the city's inhabitants. ("Breaking News") Meanwhile, school was also in session. ("Every Knight Has Its Day")
The final battle
After that, the Nixels then returned, discovering Mixopolis and setting up a tall building in the city. The Nixels fool the Mixels living in Mixopolis into trading their Cubits in for the I-Cubit; all regular Cubits were then reverted to their liquid form except for one, which Booger had. The color is then completely drained from the city and all of its inhabitants zombified. King Nixel launches a missile containing the liquid into the stratosphere but it malfunctions and explodes as Booger is still inside, saving Mixopolis and returning color. ("Nixel, Nixel, Go Away")
Locations
Districts

Educational institutes

Emergency service buildings

Restaurants
Society
The city of Mixopolis has its own law enforcement, famous band, fire department, restaurant workers, medical workers, cleaners, and news station.
A royal family also lives in the city, with a kingdom district separated from the more modern ones. Their first interactions with the more normal inhabitants of the city were when princes Camillot and Mixadel started attending classes at Mixopolis Middle School.
A legendary tribe known as the Nindjas are the sworn super hero protectors of Mixopolis. They went into hiding for some time, but were forced to come out when the Nixels, who they had encountered before, returned to take over the city.
Additionally, a group of wannabe pirates operate a tourist trap at the city's harbor.
Inhabitants
In alphebetical order.
Trivia
Gallery
Main article: Mixopolis/Gallery
Appearances
Games

Other

Mixels Websites

Mini Movies

Wild Cookironi Chase in Downtown Mixopolis!
The Music Prank
Attempted Bank Robbery

LEGO Club Magazines

Schoolhouse Mix-Up!
Maximum Mixel Max Action!