The Mixels in SPAAAAACE!! Puzzle was a connect-the-dots puzzle in the November/December 2014 LEGO Club Magazine. It featured Niksput.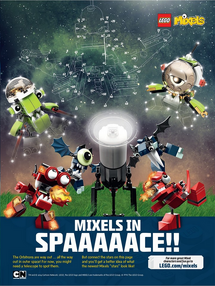 Official Description
The Orbitrons[sic] are way out ... all the way out in outer space! For now, you might need a telescope to spot them. But connect the stars on this page and you'll get a better idea of what the newest Mixels "stars" look like!
Trivia
It was the second official acknowledgement of 2015's Series 4; the first being at San Diego Comic-Con International.
The puzzle hinted that Niksput is the leader of the Orbitons.
The picture has all Series 4 Mixels, except Flamzer and Boogly. There might have possibly been no room for them to be on it.
In the description, "Orbitons" is misspelled "Orbitrons".
The title is a reference to The Muppet Show skit "Pigs In Space", where the word "space" is stretched out for dramatic effect.
Community content is available under
CC-BY-SA
unless otherwise noted.