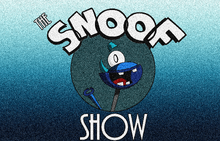 The Snoof Show is an animated television series created by Warner Bros. It was a short-lived spin-off of The Mixels Show, the first TV series based upon the characters of the Mixels franchise since Warners' acquisition of Bilsonessy Productions, but concentrating attention mainly on the Frosticon Mixel, Snoof. The show ran briefly during September 1994.
None of the episodes were composed of new material, instead, they were compilations of shorts produced for the first season of The Mixels Show.
The theme song for the show is a rendition of The Mixels Show theme, set to the same music, but with Snoof himself as the subject of the song. Some of the lyrics were reused in at least one later episode of The Mixels Show and in the 1997 feature film.
This was Warner Bros. Animation's second attempt at this formula. It first attempted this in 1992 by creating a Tiny Toon Adventures spin-off centered on Plucky Duck, a main character on that show. It would attempt this again when Pinky and the Brain, another Bilsonessy creation that was also acquired by Warners and integrated into Animaniacs, were given their own show. PATB fared far better than either The Snoof Show or The Plucky Duck Show, lasting 65 episodes, all of which were completely original to the series and not compilations of shorts produced for Animaniacs.
Series overview
Season
Episodes
Originally aired (U.S. dates)
Season premiere
Season finale
1
 ??
September 1994
September 1994
UNDER CONSTRUCTION!
Community content is available under
CC-BY-SA
unless otherwise noted.