Introducing, The First Ever MW:CC Tribe Page: The Ghoulies! A Ghost Tribe Who Live In a Haunted House. Skadder Is a Real Fancy Guy, But Infearnie And Possesstor Are Real Pransters, Tricksters, Whatever You Call Em'. But Their Max Is More Terrifying Than Those Two Tricksters...
Skadder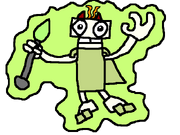 Skadder Is The Owner Of His Mansion, And He's a Real Fancy Guy. When Infearnie And Possesstor Come Knockin', He Can Use His Staff To Shoo Them Away.
Possesstor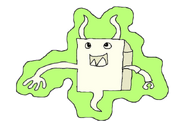 Possesstor Is a Trickster, With His Brother Infearnie. He Often Fibs About "Borrowing" Skadder's Stuff, Which Infearnie Agrees With.
Infearnie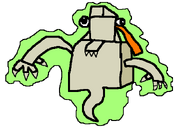 Infearnie Is Also a Trickster, Like His Brother Possesstor. He Often Agrees With His Brother's Fibs, Which Skadder Doesn't Fall For.
Set
Community content is available under
CC-BY-SA
unless otherwise noted.