This article is about unofficial content




This article contains information about a subject that is unofficial to the Mixels franchise.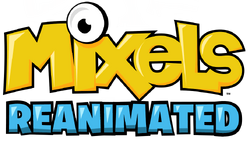 The Mixels Reanimated Collab is a fan-organized collaboration project to unofficially reanimate episodes of Mixels. The project was started on October 7, 2019, and the first collaboration, a reanimated version of Cookironi, was released on December 23, 2019. The project has expanded to various other episodes, continuing to this day.
Collaborations
Trivia
The collaborations feature a variety of animation styles, including hand-drawn animation, digital puppet animation, LEGO stopmotion animation, and pixel art animation.
There are often allusions and nods to various running jokes and memes within the Mixels community. In addition, there are also references to other pieces of fan-created content, such as Mixels Unite.
Video
External links