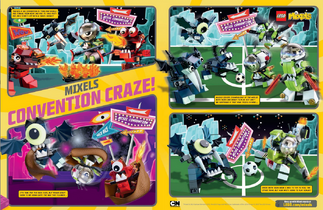 Mixels Convention Craze is a two page spread in the March/April 2015 LEGO Club Magazine. It shows the Series 4 Mixel tribes at a convention.
Description
This first panel shows the Orbitons, Glowkies, and Infernites at a picnic on the Mixel Moon.
Later, they have a sack race. In the race, Nurp-Naut falls over. It also appears that Globert is winning, with Flamzer close behind.
Soon after, the Orbitons and the Glowkies compete in The Soccer Championship of the World. In order to win they both Max, but forget who will play goalie.
Trivia
The elements of the signs are reused from those of the Magic Tent.