Mixels
is a
LEGO
theme introduced in
March
2014
, as the main toy merchandise for the
Mixels
franchise
. The sets consist of
different brick-built creatures
. It is unknown when production of the sets will cease.

List of sets
2014
March Wave (Series 1)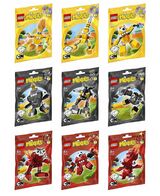 June Wave (Series 2)
September Wave (Series 3)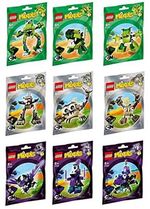 2015
February Wave (Series 4)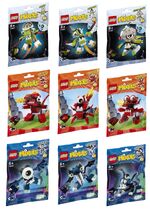 June Wave (Series 5)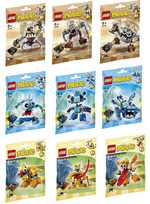 October Wave (Series 6)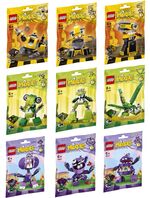 2016
February Wave (Series 7)
Designers
Packaging
Mixels packaging has a small transparent window in the shape of a Cubit to let the buyer take a sneak peek at the pieces included in the set. Their packaging is similar to the bags of some of the much smaller Friends sets (collectible animal packs).
The packaging also shows what the Mixels look like in their cartoon form in the top right corner. As the packaging shows the cartoon version, behind them is a burst of what element they are. (Ex: A Glorp Corp member would have gooey stuff behind it).
Finally, the packaging also shows the Mixel doing some pose in front of a background of Mixel Land. The first three waves had bags with rings around the Mixel's image.
The design changed with the fourth wave, with new-style artwork showing the respective tribe region behind them, and with striped light-style patterns. Also starting with the fourth wave, the bags were made with small slits at the top, letting them be easily opened by hand instead of having to be cut open.
Trivia
Awards and Nominations
In February 2014, Mixels Series 1 won in the Pocket Money category at the London Toy Fair Best New Toy Awards.[3] The theme was also a 2014 Toy of the Year finalist.[4]
Gallery
Main article: Mixels (theme)/Gallery
Sources and References
External links