The subject of this article has not been released in the United States




This article covers something that has only been released in a foreign country from the base of the show and many of our users. Because of this, the article may lack important details.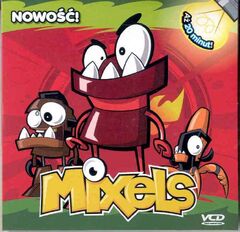 A Mixels VCD with most of 2014's shorts was included in the January 2015 first issue of the Polish "Cartoon Network Magazine."[1] The VCD features a Polish-dubbed version of Movie, and lists its contents as having the same episodes as it in the same order.
Trivia
Mixels is dubbed into Polish as "Mixele," but, is still entitled Mixels on the DVD. This is likely due to the Polish dub not receiving a new logo despite the title change.
It features a menu that is identical to the back cover; however, clicking anywhere on the menu starts the video.
The version of Movie featured on the disc uses a transition for all episodes with the Mixels logo on a red background spinning around to reveal the title of the episode, some with different backgrounds. This animation is used in the standalone European versions of Wrong Colors.
Gallery
Main article: Mixels (VCD)/Gallery
Sources and references