Welcome to reality.




This page is about an event or an object that is real and exists in the real world.
Mixels is the sole TV series for the Mixels franchise that started airing on February 12, 2014, created by John Fang and Dave Smith. It consists of animated, 1-2 minute shorts and full-length, half-hour specials revolving around the Mixels, small creatures that can mix and combine with one another in creative and unpredictable storylines.
Mixels is produced by Cartoon Network Studios and airs on Cartoon Network. The series is rated TV-Y7.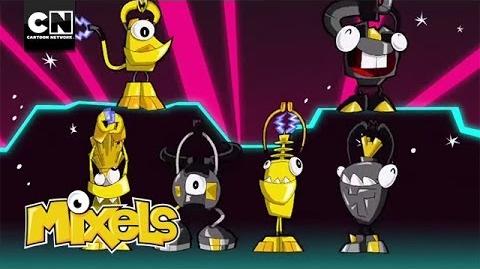 Plot
Mixels is centered around a world of colorful creatures who can mix and combine with each other leading to hilarious and surprising results. They are comical, mischievous creatures that live in tribes. Each tribe is based around something unique. The Nixels are annoying and destructive little creatures that wreak havoc over the Mixel Land, trying to tear down and break apart the tribes. They are led by King Nixel and Major Nixel.
Aspects
There are a few major aspects that appear in nearly every, if not all, episodes of the show. They are listed below.
Title Card
Main article: Mixels (TV series)/Title Card
A title card appears at the beginning of every episode of Mixels to date. There are both minor and major differences between all of them, but they always include some variant of the Mixels logo, and often combine that with the main scene of the episode.
Action
Each episode always includes at least one Mix or Murp of two different characters. Also included in a select few episodes are Maxes of three of a tribe. There is usually a situation that is fixed using these powers.
Episodes
Main article: Mixels (TV series)/List of Episodes
Season
Episodes
Originally aired (U.S. dates)
Season premiere
Season finale
1
21
February 12, 2014
August 31, 2014
2
1
March 9, 2015
TBA
Voice Cast
Awards and Nominations
The show was nominated for a BAFTA award in 2014 for Children's Interactive Original.[1]
Trivia
Either the first episode or promotional advertisement (depending on the theater) appeared after trailers, before The LEGO Movie in cinemas on February 7, 2014.
This is the first LEGO TV series without the use of CGI animation (Ninjago and Legends of Chima). Instead, this show uses ToonBoom Harmony software with animation by Atomic Cartoons.
In some countries, the shorts end with the Cartoon Network Studios logo, and Vulk inside of it, shouting "REMIX!"
The first full-length episode was Mixed Up Special.

Many listings for Mixel Moon Madness mention it as an episode of a full half-hour version of the series, possibly making it the first full-length episode that is not officially a special.

Credits are available in Japanese versions of clips.
The German versions of shorts say the name of the episode aloud, as do the Arabic ones.
The Korean version of the show is the only one to have an alternate title card in its respective language.
Gallery
Main article: Mixels (TV series)/Gallery
Sources and References
External links
Mixels at the Internet Movie Database
Community content is available under
CC-BY-SA
unless otherwise noted.