I watch now!




This page is about an episode of the Mixels television series on Cartoon Network. From here, you can also access the gallery and transcript pages for the respective episode.
This article is under construction




This page or section is currently under maintenance or construction. Feel free to help in any way you can to improve it.
"Don't forget to see the show!"
— Magnifo
Mixed Up Special

Information
Season
3
Episode Number
21
Production Code
?
Original Airdate
?
Characters
Everyone from Series 1-3
Episode Guide
Previous
Elevator
Next
TBA
Mixed Up is the first episode in season three of Mixels, and the twenty-first episode overall. It is also the season premiere and the first ever full, half-hour special. It first aired on August 31, 2014.
Synopsis
"Epic Comedy Adventure"- When General Nix tries to stop the annual Mixfest, it's up to Flain and friends to bring back mixing!
"Murp Romp"- There is a Murp on the loose and the Mixels must catch it before it destroys everything!
Episode Summary
Act I - Epic Comedy Adventure
Act II - Murp Romp
The Glorp Corp and the Spikels are enjoying a day at Mixel Park. Scorpi grows afraid of Glurt's enthusiasm and the Spikels head off. Glomp disperses a Glorp Corp/Spikel cubit from his nose and throws it for Glurt to fetch, with the others running after him. Meanwhile, Flain, Lunk, Chomly, and Zaptor are enjoying a picnic, with Zaptor commenting on the calmness. They are suddenly interrupted by a puff of magic. The Wiztastics appear to advertise their next show, which Magnifo promises won't be like the last one (which ended with him being burnt to ashes). The Spikels come to see what's happening, and when the Wiztastics teleport away (out of embarrassment from Magnifo), they scare Scorpi again, causing him to run away and accidentally crash into the cubit that Glurt's carrying. This causes them to Murp, and they run off, coating the other parkgoers in slime.
Transcript
For a full transcript of "Mixed Up Special", click here.
Production Information
When the Mixels franchise was first announced, it was stated that the length of the series could be extended for longer storylines, if and when needed.[1]
The full name of the episode is Mixels: Mixed-Up Special.
It is split into two different, seven-minute parts and storylines,[2] plus other shorts from Season 1 and Season 2.
As of now, this is the longest episode.

This is also the first episode to air and premiere at a specific time (6/5c) instead of during a commercial break.
The voice cast will finally be revealed in the end credits.
A short clip was released prior to the episode's airing, in anticipation for its release.[3]
This episode will air as part of the "Labor Day Weekend Clarence and Friends Sleepover" event.[5]
Trivia
Continuity
Errors
Allusions
Memorable Quotes
Glurt: Howdy, howdy, howdy!
Scorpi: AHHHHHH! (jumps onto Hoogi's head)
Footi: Yep, he's super cute and super skittish.
Magnifo: …MAGIC! Hey, hey, there, we're the Wiztastics! And we're back with a brand new magic show! So, prepare to be amazed!
Mesmo and Wizwuz: Amazed.
Magnifo: To be astounded!
Mesmo and Wizwuz: Astounded.
Magnifo: And to be…uh…uh…what was it? Uh…mm…what was that…oh! Amazed! Gah, I already said that, dagnabbit!
Glurt/Scorpi Murp: Ha-ha-hah! Murp! Murp! (Runs off)
Torts: Glurt!
Footi and Hoogi: Scorpi!
Glomp: They didn't make a Mix…
Footi: …They made a Murp!
Reception
Ratings
Gallery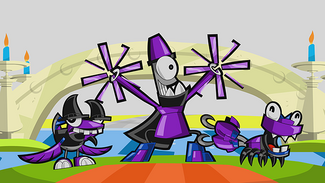 The image gallery for Mixed Up Special may be viewed here.
Sources and References
Community content is available under
CC-BY-SA
unless otherwise noted.