This article potentially contains non-canon material




While official, it is unclear whether or not all elements of this article are canon.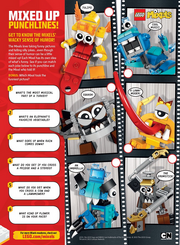 Mixed Up Punchlines! is a page in the July/August 2015 LEGO Club Magazine. It shows six of the Series 5 Mixels saying the punchlines to jokes, and the reader has to match them with the original jokes.
Jokes
Trivia
Gox, Krog, and Spugg do not appear. This is understandable, because these particular three were the center of "Mixel Maker!" and "Spring Into Action!" in the May–June 2015 issue.
This marks the only area where Tungster and Turg speak in English.