The subject of this article has not been released in the United States




This article covers something that has only been released in a foreign country from the base of the show and many of our users. Because of this, the article may lack important details.
The Mixed Up Maze was a maze puzzle in the Canadian January/February 2015 LEGO Club Magazine. It featured Nurp-Naut.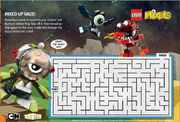 Official Description
Nurp-Naut needs to reach his pals Burnard and Globert before they take off in their mixed-up ship-space for the stars. Guide him through the maze before he's late!
Trivia
This provided Nurp-Naut's first quote: "Ready for blast-off?"
This puzzle was exclusive to the Canadian issue, due to the fact that they did not have a Make a Mixel... Make a Story! Competition and the winners were announced then.