This article has a conjecture name




LEGO or Cartoon Network has not given the official name of this subject, so it is purely conjectural. This template and page name will be used until an official name is provided.
Mix TV Studios
Information
Inhabitants
Newzers
Visitors
Unknown
Features
Exterior: Hanging microphones
Cameras
Interior: Green screen
Mix TV Studios is an area of Mixopolis. It is the home and workplace of the Newzers.
Description
Appearance
Exterior
The Mix TV Studios is made up of a district of various buildings shaped like recording materials. Camera lenses that look like Camsta's, along with microphones that look like Myke's decorate them.
Interior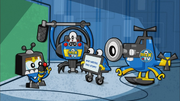 The interior of the Mix TV Studios contains a green screen for Screeno to film his broadcasts. Unlike real life green screens, his never changes backgrounds for the specific news.
Trivia
One of the buildings is visible on Mixopolis' main street, hinting the district is near it.
Appearances
Other
Community content is available under
CC-BY-SA
unless otherwise noted.