"Welcome, Mixel dudes, to the annual Mixel Mix Fest! Where we celebrate the totally rad, super-awesome power of the Cubit!"
— Flain
The
Mix Festival
,
Mixel Festival
or
Mixfest
is an annual event coordinated by all of the
Mixel
tribes. It was made to celebrate the power of the
Cubits
,
Mixing
,
Maxing
, and to a lesser extent,
Murping
.
Background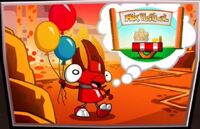 Flain arrived late to the festival and was surprised to find out that no one was attending. He later discovered that the Nixels had captured his friends, and the festival was put on hold until he could find them.
Later, everyone was at the festival (most likely the previous one rescheduled after its problems), when Major Nixel Nixed it and the attendees with the Mega Nixel Mixel Nixer. A small group of tribal leaders managed to reverse the effects of the Mega Nixel Mixel Nixer and brought it back to normal.
Trivia
Flain seems to host this event. Additionally, a DJ turntable is spun by Vulk, and Zaptor is in charge of the Hamlogna Sandwiches.
Major Nixel ruined two festivals in a row.
Community content is available under
CC-BY-SA
unless otherwise noted.