"The toys I'm holding are LEGO 'Mixels', which are toys from the show by the same name I'm doing character design on at Cartoon Network. I have waited so long to see the words 'character designer' next to my name and I really can't even believe it's true!"
— Miranda Dressler
Miranda Dressler is a character and prop design artist for Mixels.
Personal life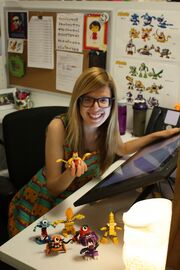 Dressler earned her BFA in Illustration at the University of the Arts in Philadelphia, and then moved to LA to work in visual arts. She worked at Disney TV Animation, Paul Frank, and then eventually for Cartoon Network. After the end of Mixels, she returned to Paul Frank, where she currently works.
Trivia
Gallery
Main article: Concept Art#Miranda Dressler
External links
"The storyboard start, you know, showing the story visually, with little pieces of dialogue and drawings that they pin up. And then if something comes up where they're like "Hey, we really wanna know what this certain character would look like" or "We need a take on what this environment would look like". Then Tim and I get involved and we start to collaborate with the storyboard guys on what would, like, be the best design for a character in a certain scene."
— Miranda Dressler, The Wonderful World of Mixels