This article is a disambiguation page for Merchandise




The following is a list of links to pages that might share the same title.
Please follow one of the disambiguation links below or search to find the page you were looking for if it is not listed. If an internal link led you here, you may wish to change the link to point directly to the intended article.
There are tons of Merchandise sold, made for the Mixels franchise. Here is a list of them.
Toys
Main article: Mixels (theme)
LEGO has the official license to make toys for Mixels from Cartoon Network, and is involved so much that people are often confused whether LEGO or Cartoon Network developed the franchise. However, both of them are equally involved in the development of the franchise. The toys consist of buildable versions of the characters. There will be an unspecified amount of series released, with nine sets per series (three tribes, three Mixels per tribe).
Books
There are several books that have been published to support the property by DK and other companies, with the LEGO branding.
Calendar
Main article: Mixels: 2015 Wall Calendar
Apparel
There are Mixels t-shirts available, as seen below.
Posters
There are Mixels posters as shown below, and will most likely be more in the future.
Gel Pens
There are Mixels gel pens, as shown to the right: one pack with two, and another with three.
Sticker Packs
There are Mixels sticker packs, as shown below.
Bookmark
There is a Mixels bookmark, as seen to the right.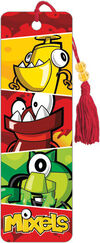 Party Favor Stickers
There are a few Mixel stickers that are reccomended for party use. 
Community content is available under
CC-BY-SA
unless otherwise noted.