Medievals Max
Information
Appearances
Unknown
Primary Mixel
Camillot
Secondary Mixel
Mixadel
Tertiary Mixel
Paladum
Purpose(s)
Unknown
Ability(ies)
Catapult objects
The Medivals Max is a Max that will debut in 2016.
Physical Appearance
This Max resembles Paladum the most.
Abilities
He can fly and catapult objects.
Set Information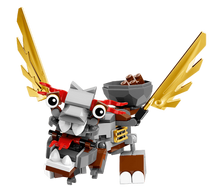 The Medivals Max can be built using parts combined from Mixels sets 41557 Camillot, 41558 Mixadel, and 41559 Paladum. Extra parts are left over after construction. Instructions are available on the LEGO website downloads page.
Trivia
He somewhat resembles a dragon.
He uses one flag each from the three Medivals, as ears and a tongue.
He is the second Max to use 1x1 eye tile pieces, with the first being the Electroids Max.
He is the second Max to have a projectile shooting feature; the first being the Frosticons Max.
He is the sixth winged Max; the first five being, Wiztastics Max, Orbitons Max, Glowkies Max, Lixers Max and Glorp Corp Max.

Moreover, he is the only Series 7 Max to have wings.
He, and the Wiztastics Max, are the only two winged Maxes to have the same design of their wings, yet so far.

He is the second Max to have two points of articulation on the mouth; the first being the 2015 Glorp Corp Max.
He is the third Max with articulated eyes; the first two being Lixers Max and Glorp Corp Max.

The Medivals Max's eyes, however, are not ball-jointed.
Gallery
Main article: Medivals Max/Gallery
External links
Community content is available under
CC-BY-SA
unless otherwise noted.