Tags: apiedit, Visual edit

(18 intermediate revisions by one other user not shown)
Line 2:
Line 2:
 

|Color = lightgray

 

|Color = lightgray

 

|name = <span style="color:rgb(162,76,0);font-size:16px;font-weight:Bold;line-height:26px;">Medivals </span><span style="color:rgb(250,200,0);font-size:16px;font-weight:Bold;line-height:26px;">Max</span>

 

|name = <span style="color:rgb(162,76,0);font-size:16px;font-weight:Bold;line-height:26px;">Medivals </span><span style="color:rgb(250,200,0);font-size:16px;font-weight:Bold;line-height:26px;">Max</span>

−

|image = [[File:Midevels_Cartoon_MAX!.png|300px]]

+

|image = [[File:.png|300px]]

 
+

|caption = Fan-made interpretation by [[User:JacKobOriginal|JacKobOriginal]].

−

|appearances = Unknown

+

|appearances =

 

|firstmixel = [[Camillot]]

 

|firstmixel = [[Camillot]]

 

|secondmixel = [[Mixadel]]

 

|secondmixel = [[Mixadel]]

 

|thirdmixel = [[Paladum]]

 

|thirdmixel = [[Paladum]]

−

|purpose = Unknown

+

|purpose =

 

|abilities = Catapults objects<br>Flight

 

|abilities = Catapults objects<br>Flight

 

}}

 

}}

−

The '''[[Medivals]] [[Max]]''' is a Max that debuted in [[2016]].

+

The '''[[Medivals]] [[Max]]''' is a Max that in .

 
 
 

==Physical Appearance==

 

==Physical Appearance==

−

This Max resembles [[Paladum]] the most.

+

resembles [[Paladum]] the most.

 
 
 

==Set Information==

 

==Set Information==

Line 23:
Line 24:
 

*He uses one flag each from the three [[Medivals]], as ears and a tongue.

 

*He uses one flag each from the three [[Medivals]], as ears and a tongue.

 

*He and the [[Mixies Max]] are the only [[Series 7]] [[Max]]es who never appeared in the [[Mixels (TV series)|show]].

 

*He and the [[Mixies Max]] are the only [[Series 7]] [[Max]]es who never appeared in the [[Mixels (TV series)|show]].

−

*It might be the only [[Max]] to have teeth to use as feet the round feet are [[Paladum]]'s teeth

 
−

*this [[Max]] including the [[Series 7]],[[Series 8]],[[Series 9]],and [[Weldos]] [[Max]] are not in the [[Ultra-Miximum Max]]

 
 
 
 

==Gallery==

 

==Gallery==

Line 30:
Line 29:
 
 
 

==External links==

 

==External links==

−

*[http://cache.lego.com/r/www/r/mixels/-/media/franchises/mixels/downloads/wave%207/41557_41558_41559_digital.pdf Instructions on LEGO.com]

+

*[://.lego.com/r/www/r//-/media/franchises/mixels/downloads/wave%207/41557_41558_41559_digital.pdf Instructions on LEGO.com]

 
+

<center><tabber>

−
 
 
+

|-|Maxes=

 

{{Maxes}}

 

{{Maxes}}

 
+

|-|Medivals=

 

{{MedivalsNav}}

 

{{MedivalsNav}}

 
+

|-|Series 7=

 
+

{{Series7}}

 
+

</center></tabber>

 

[[Category:Male characters]]

 

[[Category:Male characters]]

 

[[Category:2016]]

 

[[Category:2016]]

Line 61:
Line 65:
 

[[Category:Season Two]]

 

[[Category:Season Two]]

 

[[Category:Interactive Features]]

 

[[Category:Interactive Features]]

 
+

[[Category:Two Legs]]
---
Revision as of 13:57, 23 December 2019
Medivals Max

Fan-made interpretation by JacKobOriginal.
Information
Appearances
N/A
Primary Mixel
Camillot
Secondary Mixel
Mixadel
Tertiary Mixel
Paladum
Purpose(s)
N/A
Ability(ies)
Catapults objects
Flight
The Medivals Max is a Max that did not appear in the cartoon, but had a preliminary model.
Physical Appearance
Overall, this max resembles Paladum the most.
Set Information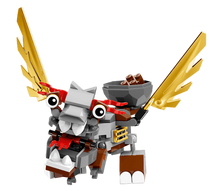 The Medivals Max can be built using parts combined from Mixels sets 41557 Camillot, 41558 Mixadel, and 41559 Paladum. Extra parts are left over after construction. Instructions are available on the LEGO website downloads page.
Trivia
Gallery
Main article: Medivals Max/Gallery
External links
Mixels Series 7 (February 2016)
LEGO sets
MCPD
41554 Kuffs
/ 41555 Busto
(Nixel) / 41556 Tiketz
(Cookironi)
MCPD Max

Medivals
41557 Camillot
/ 41558 Mixadel
/ 41559 Paladum
(Nixel)
Medivals Max


Mixies
41560 Jamzy
(Nixel) / 41561 Tapsy
/ 41562 Trumpsy

Mixies Max

Stopmotions

Wild Cookeroni Chase in Downtown Mixopolis! / The Music Prank
Community content is available under
CC-BY-SA
unless otherwise noted.