Medievals Max
Information
Appearances
Unknown
Primary Mixel
Camillot
Secondary Mixel
Mixadel
Tertiary Mixel
Paladum
Purpose(s)
Unknown
Ability(ies)
Catapult objects
The Medivals Max is a Max that will debut in 2016.
Physical Appearance
This Max resembles Paladum the most.
Set Information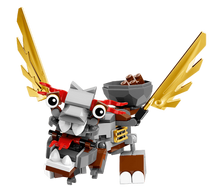 The Medivals Max can be built using parts combined from Mixels sets 41557 Camillot, 41558 Mixadel, and 41559 Paladum. Extra parts are left over after construction. Instructions are available on the LEGO website downloads page.
Trivia
He somewhat resembles a dragon.
He uses one flag each from the three Medivals, as ears and a tongue.
Gallery
Main article: Medivals Max/Gallery
External links