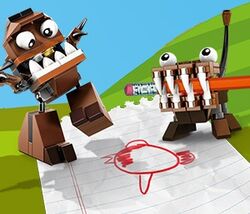 The Make a Mixel... Make a Story! Competition was a contest held in the LEGO Club Magazine, July/August 2014 issue. All entries had to be received by August 15, 2014. Five winners received a $100 LEGO gift card. The winners were announced in the January/February 2015 LEGO Club Magazine.
Entrants were tasked to create their own Mixel with its own name, tribe, home, and powers.
Trivia
Slumbo and Tentro are the only Series 2 Mixels who did not appear on the page promoting the competition.
The Canadian issues of the magazine lacked the competition. Because of this, the January/February 2015 issues of the Canadian version of the magazine had the Mixed Up Maze in its place.
Gallery
External links