Mailman is the eighth episode in the first season of Mixels. It first aired on March 12, 2014.
Synopsis
Frustrated Cragsters must join together to catch a lightning fast mailman: Zorch.[1]
Episode Summary
Shuff orders a Teddy Butterfly online, Zorch leaves a note outside Shuff's House saying that he missed Shuff. This happens again causing Shuff to call Seismo and Krader to stop Zorch. Their plans fail so they Max to catch Zorch. Shuff receives his Teddy Butterfly and ends up accidentally smashing it on the ground in excitement.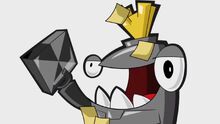 Characters
Major Characters
Maxes
Transcript
For a full transcript of "Mailman", click here.
Trivia
Broadcast
This episode aired on March 12, 2014 directly following the Teen Titans Go! episode, "In and Out" and received a total of 1.740 million viewers.
Continuity
Errors
On the site photo, the Teddy Butterfly's ears are depicted as pink instead of dull white.
When Shuff says "Guys", his mouth doesn't move at first.
During the Max transformation, Shuff's crystal is briefly disconnected from his head.
When Shuff wiggles his feet when crying, his feet switch places.
When Krader is pointing upwards with his smaller hand, he has an extra finger.
Like in Wrong Colors, Shuff's eye is connected to his lower jaw.
When Zorch first zooms past the screen, the background is unfinished towards the right of the screen.
Allusions
Whac-A-Mole - When Zorch bounces on the Cragsters, it is similar to the popular game of Whac-A-Mole.
Memorable Quotes
"Pickuppickuppickuppickuppickup....."
— Shuff
"Time to crush your rush!"
"Package for Shuff..."
— Zorch
"I GOT IT! My plan worked! Woo-hoo! Oh yeah!"
— Shuff
Video
Gallery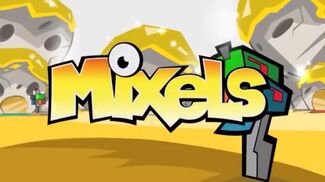 The image gallery for Mailman may be viewed here.
Sources and References
Mixels Series 1 (March 2014)
LEGO sets
Infernites
41500 Flain

/ 41501 Vulk
(Nixel) / 41502 Zorch


Infernites Max

Cragsters
41503 Krader

(Nixel) / 41504 Seismo

/ 41505 Shuff

Cragsters Max


Electroids
41506 Teslo

(Nixel) / 41507 Zaptor
/ 41508 Volectro


Electroids Max

Coconapple / Cookironi / Hot Lava Shower / Electrorock / Nixels / Pothole / Murp / Mailman / Another Nixel / Changing a Light Bulb / Rockball

Stopmotions


Infernites MAX! / Cragsters MAX! / Electroids MAX!
Community content is available under
CC-BY-SA
unless otherwise noted.