The subject of this article has not been released in the United States




This article covers something that has only been released in a foreign country from the base of the show and many of our users. Because of this, the article may lack important details.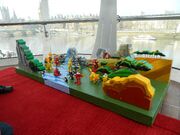 The London Eye Mixels Launch Event was a special event hosted in London, England, in a capsule on the London Eye on March 1, 2014.
Description
Guests were allowed to enjoy building challenges and hear stories and enactments presented by a LEGO specialist. They were also treated to episodes of the show, and could hands-on build with the new sets from Series 1. It was coordinated by PR agency Norton.
Gallery
Main article: London Eye Mixels Launch Event/Gallery
Trivia
A press DvD disc was seen at the event, the contents of this DvD, or any other information about the disc, is unknown.
Video