Line 9:
Line 9:
 

*The Fang Gang invented it for the [[Mixel Land]].

 

*The Fang Gang invented it for the [[Mixel Land]].

 

*[[Flain]] and [[Slumbo]] do not like it, as the log hit them while they were relaxing. Later, however, they got what was coming to them. They [[Murp]], and then [[Jawg]] and [[Chomly]] use them as a log to play "Mixel Toss".

 

*[[Flain]] and [[Slumbo]] do not like it, as the log hit them while they were relaxing. Later, however, they got what was coming to them. They [[Murp]], and then [[Jawg]] and [[Chomly]] use them as a log to play "Mixel Toss".

−

* The game appears to be a combination of caber tossing and pinball, minus the ball.

+

* The game appears to be a combination of caber tossing and pinball, minus the ball.

 

{{Template:Misc}}

 

{{Template:Misc}}

 

[[Category:Sports]]

 

[[Category:Sports]]
---
Revision as of 23:18, 10 October 2014
Warning! This page is Fang Gang territory.


MIX! The page you are about to view has something to do with the Mixel tribe of the Fang Gang. The Fang Gang is the group with the biggest appetite, and they can get seriously crazy on an empty stomach.
Log Toss is a sport that the Fang Gang mostly play. The game is the main focus of the episode Fang Gang Log Toss.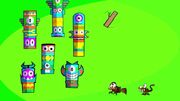 How to Play
The first thing to know is that you need a log in order to play the game. You must toss that log into six Totems, and have the log hit all of them over and over again until it finally stops. The amount of times you hit a pillar is the amount of points you get per round. You have to beat the other player, if there is one, and get more points than them. This can go on for a while however. 
Mixel Toss
Mixel Toss is like Log Toss, but requires a log shaped Mix or Murp to play. Other than this it is the same as Log Toss.
Trivia
The Fang Gang invented it for the Mixel Land.
Flain and Slumbo do not like it, as the log hit them while they were relaxing. Later, however, they got what was coming to them. They Murp, and then Jawg and Chomly use them as a log to play "Mixel Toss".
The game appears to be a combination of caber tossing and pinball, minus the ball. the fang gang play it
Community content is available under
CC-BY-SA
unless otherwise noted.