The Lixers Max is a Max that made its debut in Mixels Rush.
Physical Appearance
Overall, this Max resembles Spugg the most. 
The Lixers Max is mostly yellow in color. He has four legs, the front resembling Spugg's, and the back resembling Krader & Meltus' feet. He has Turg's tongue and Tungster's wings. Inside his mouth, he has bucked teeth and two of Turg's teeth on the bottom, and one sharp tooth pointing out. He has a triangular tail with an orange socket, and a long body resembling Spugg's. He has two horns pointing upwards with orange cat-like ears in-between them. 
Biography
The Max was formed to clean up the mess the Lixers had made in the kitchen while baking a cake. ("Lixers Max in the Kitchen!")
The Max was formed to fight King Nixel after discovering the Mixamajig was a hoax. He then Mixed with the other Maxes to form the Ultra-Miximum Max. ("A Quest for the Lost Mixamajig")
Set Information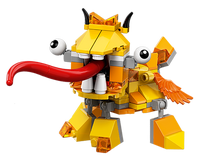 The Lixers Max can be built using parts combined from Mixels sets 41542 Spugg, 41543 Turg, and 41544 Tungster. Extra parts are left over after construction. Instructions are available on the LEGO website downloads page.
Trivia
He somewhat resembles a tongued griffin.

In a way, he also somewhat resembles an elephant.

He uses all of Turg's teeth.
Despite having six teeth in cartoon model, in LEGO model, he only has four.

However, in his LEGO model, parts of his teeth are orange, but white in cartoon model.

His wings are way smaller in his cartoon form than in his LEGO model.
His back legs are similar to those of Krader and Meltus.
His back feet in his LEGO model are in different colors than the cartoon version. In the cartoon, it is a bright yellow which isn't in any of the Lixers.
He is the first Max to have ball-jointed eyes in his LEGO model.
He is the only Series 5 Max to use the same eye piece as the Mixel he resembles the most.

He is also the only Series 5 Max to have the same amount of eyes as the Mixel he resembles.
Gallery
Main article: Lixers Max/Gallery
External links
Mixels Series 5 (June 2015)
LEGO sets
Klinkers
41536 Gox

(Nixel) / 41537 Jinky
/ 41538 Kamzo

Klinkers Max


Frosticon cousins
41539 Krog
(Nixel) / 41540 Chilbo
/ 41538 Snoof

Frosticons Max


Lixers
41542 Spugg
/ 41543 Turg

(Nixel) / 41544 Tungster

Lixers Max

A Quest for the Lost Mixamajig

Stopmotions

Snoof and Tungster Mix! / Junkyard Go-Kart Murp / Lixers Max in the Kitchen!
Community content is available under
CC-BY-SA
unless otherwise noted.