This article has a conjecture name




LEGO or Cartoon Network has not given the official name of this subject, so it is purely conjectural. This template and page name will be used until an official name is provided.
Village of Lixers
The Village of Lixers is a location in Planet Mixel. It is the home of the Lixers.
Description
The village of Lixers is full of lush, green plants, such as bushes and grasses. It also has blue plants, along with large trees resembling umbrellas and deep cliffsides everywhere. It appears to rain a lot here as well.
As seen in A Quest for the Lost Mixamajig, a swamp also runs through this location.
In Apps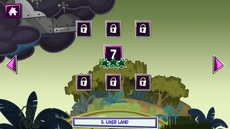 In Mixels Rush, the village of Lixers is called Lixer Land, and is the fifth world in the game.
Mixels Rush Background Music
Gallery
Main article: Rainforest/Gallery
Appearances
Season 2
Merchandise
Other
Community content is available under
CC-BY-SA
unless otherwise noted.