Warning! This page is Electroid territory.




MIX! The page you are about to view has something to do with the Mixel tribe of Electroids. The quirky Electroids love to tinker and experiment, and they live high up in the mountains to be closer to the lightning storms.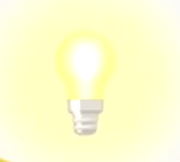 The Lightbulb Sun is the sun of Mixel Land.
Description
The Lightbulb Sun is merely a giant light bulb in the sky. It appears in the background of various outdoor scenes. It is very prominent in the Mountain City, as its power is directly connected to the Electroids's home.
Appearances
The Lightbulb Sun is very prominent in the background while Vulk and Zaptor are walking down the path.
The Lightbulb Sun is prominent on the side of the river that Flain and Krader are on.
Thanks to the Electroid Max overloading the power to intensify the brightness of a normal light bulb, the Lightbulb Sun ends up shattering, plunging the city (and presumably the rest of Mixel Land) into darkness.
In the "Epic Comedy Adventure" section, Krader imagines it when he thinks about a more cheerful version of Mixel Mountain. It later appears during the scenery switch near the end of the episode, and ends up glowing bright white to cover the screen in light to end the episode. It also appears during the title card of the "Murp Romp" section.
Trivia
Despite being a large celestial body with no noticeable Earthly connection, power surges can still easily affect it.
Strangely, it is able to be broken like a real light bulb.

It is unknown how it is repaired if this happens.
Gallery