The large rock is a type of area mostly used for celebrations or for hanging out eating snacks.
Physical Appearance
The large rock appears as a large greyish-tan slab of rock with various cliffs. It rests on the top of a hill.
Background
The Series 1 Mixels used the large rock for a spot to rest while they ate Cookironis.
This was the location of the Mix Festival, where all the Mixels (save for Flain, who arrived late) celebrated on until they were sucked up by the Mega Nixel Mixel Nixer.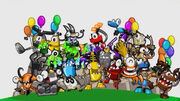 Appearances
Season 1
Merchandise