The subject of this article has not been released in the United States




This article covers something that has only been released in a foreign country from the base of the show and many of our users. Because of this, the article may lack important details.
LEGO Mixels: Mixels Vs Nixels! is a Mixels activity book.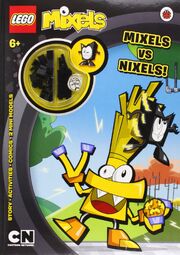 Official Description
Welcome to the crazy, colourful world of LEGO Mixels! Get ready to mix, max and murp with the six different Mixel tribes, inside this awesome activity and minifigure book.
The Mixels are high-energy, monster-like creatures, who can combine with one another to form new warriors. Read the cool story about a Mixel adventure, complete activities and puzzles, and play along with your two mini model toys!
Ready? Here we go!
Trivia
The cover's design is heavily stylized.
Volectro's tongue is incorrectly colored red on the cover.
The book includes two buildable Nixel models.
The book is a foreign reprint of LEGO Mixels: Activity Book, and contains the same content, the only difference is the cover.
The original title of "Mixels Vs Nixels!" was "Be Like Nixel!".
The Polish title is a translation of the old one.
Gallery