This article is about a future subject




This article contains information about an upcoming episode, character, or other subject. It may contain spoilers. Information is still developing about this subject and may change in the future.
This article is under construction




This page or section is currently under maintenance or construction. Feel free to help in any way you can to improve it.
Kuffs
Information
Debut
 ?
Last Appearance
 ?
Nicknames (aka)
 ?
Tribe
MCPD
Position
 ?
Gender Preference
Male
Color
Blue
White
Hint of red
Special Features
Handcuffs
Sunglasses
Helmet
Likes
 ?
Dislikes
Nixels
Quote
 ?
Voice Actor
 ?
Game Abilities
 ?
Kuffs
Information
Series
7
Item Number
41554
Packaging
Unknown-colored bag
No. of Pieces
63
Price
 $4.99


 $5.99
 €3.99
 £2.99
 29.95 kr

In-Booklet Code
 ?
Description
Personality
TBA
Physical Appearance
TBA
Ability
TBA
Biography
Early life
TBA
First adventures
TBA
Further adventures
TBA
Memorable Quotes
None so far.
Set Information
Kuffs will be released as part of the Series 7 Mixels sets in the February 2016 product wave. His set number is 41554 and will contain 63 pieces.
In-Booklet Code
TBA
Background Information
He was one of the first Series 7 Mixels revealed, and was also the first of his tribe revealed.
His name is a play on the word "handcuffs".
Judging by his appearance, it is possible that he is based off of a stereotypical cop.
Trivia
He is the fourth Mixel to have one hand bigger than the other, the first being Krader, the second being Kamzo, and the third being Kramm.

They also all have "K" as the first letter of their names.

He is the fourth Mixel to use a dome piece, the first three being Nurp-Naut, Rokit and Snax.

His dome piece appears to be a helmet, as it is something most traffic cops wear.

Like Slumbo, Balk, Mesmo, Rokit, Boogly, Snoof, Kramm, Forx and Dribbal, he uses a minifigure head piece for his eyes.
Like Dribbal, he wears glasses; these being sunglasses.

He uses pan pieces for his sunglasses.
Behind the Scenes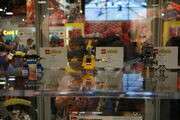 Kuffs was first revealed as a character in the Mixels franchise on July 9, 2015 at San Diego Comic-Con International, and only his LEGO set was shown.
Gallery
Main article: Kuffs/Gallery
Appearances
Merchandise
Other
Sources and References
External links
Characters
Mixels

Nixels
King Nixel

/ Major Nixel

/ Muscle Nixel

/ Slap Nixel

/ Boomerang Nixel

/ Cannon Nixel

/ Boxing Nixel
/ Catch Up Nixel
/ Painted Nixels

/ Tentacle Nixel

/ Nixie

/ Nixel Guard
Other Species
Maximum Mixel

/ Mixamals
/ Living Flames

/ Chickens

Community content is available under
CC-BY-SA
unless otherwise noted.