Were you looking for the Mix?
Kraw & Flurr Mix[1] is the fifth episode of the Mixels stop motions. It was released on June 27, 2014 on YouTube.
Synopsis
HAMLOGNE SANDWICH![sic] Flurr and Kraw use a Cubit to get the last hamlogne[sic] sandwich, will they mix fast enough before Chomly chomps it?[1]
Summary
Kraw and Flurr are hanging out when they notice a Hamlogna Sandwich, the two race each other to get to it first and then briefly battle for possession of it until Flurr encases it in ice. Chomly arrives and hands them a Cubit, which they use to Mix, however, Chomly had already devoured it by the time they had Mixed.
Characters
Major Characters
Mixes
Kraw & Flurr Mix
Trivia
This is the first appearance of a regular Mix in the stop motions.
This is the first appearance of a brick-built Hamlogna Sandwich.
Errors
The descriptions spell Hamlogna as "hamlogne," but it is spelled correctly in the episode.
Videos
Gallery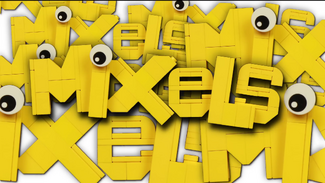 The image gallery for Kraw & Flurr Mix! may be viewed here.
Sources and References
Community content is available under
CC-BY-SA
unless otherwise noted.