Klinkerton, also referred to as Klinker Land, is a location on Planet Mixel. It is the home of the Klinkers.
Sub-areas
Description
Appearance
Klinkerton appears to be located in a barren desert somewhere on Planet Mixel. Klinkerton itself has various pipes and huge parts of grey and rusty machinery making up the outside. It somewhat resembles an old fashioned Victorian building as well. It appears to be somewhat old and falling apart. It also has various smokestacks. 
In Apps
In Mixels Rush, Klinkerton is called Klinker Land, and is the second world in the game.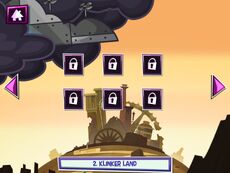 Background Music
Mixels Rush
Trivia
Gallery
Main article: Klinkerton/Gallery
Appearances
Other