(21 intermediate revisions by 12 users not shown)
Line 1:
Line 1:
 

{{MaxInfobox

 

{{MaxInfobox

 

|Color = #969696

 

|Color = #969696

−

|name = <span style="color:rgb(160,42,85);font-size:16px;font-weight:Bold;line-height:26px;">Klinkers </span><span style="color:rgb(250,200,0);font-size:16px;font-weight:Bold;line-height:26px;">MAX</span>

+

|name = <span style="color:rgb(160,42,85);font-size:16px;font-weight:Bold;line-height:26px;">Klinkers </span><span style="color:rgb(250,200,0);font-size:16px;font-weight:Bold;line-height:26px;"></span>

 

|image = [[File:KlinkersS5 Max.png|280px]]

 

|image = [[File:KlinkersS5 Max.png|280px]]

 

|appearances = [[Mixels Rush]]<br>[[A Quest for the Lost Mixamajig]]

 

|appearances = [[Mixels Rush]]<br>[[A Quest for the Lost Mixamajig]]

Line 8:
Line 8:
 

|thirdmixel = [[Kamzo]]

 

|thirdmixel = [[Kamzo]]

 

|purpose = Battle [[King Nixel]] ([[A Quest for the Lost Mixamajig]])

 

|purpose = Battle [[King Nixel]] ([[A Quest for the Lost Mixamajig]])

−

|abilities = Projects gears from his mouth

+

|abilities = Projects gears from his mouth

 

}}

 

}}

−

The '''[[Klinkers]] [[Max]]''' is a Max that made his debut appearance in [[Mixels Rush]].

+

The '''[[Klinkers]] [[Max]]''' is a Max that made debut in [[Mixels Rush]].

 
 
 

==Physical Appearance==

 

==Physical Appearance==

Line 16:
Line 16:
 
 
 

The Klinkers Max has [[Kamzo]]'s eye, yellow and gray stripes on his face, a yellow mouth with an underbite and three teeth, long gray arms with brown hands that have four gray and yellow fingers to [[Gox]]'s, and big feet to Jinky's but mostly silver. His feet are mostly gray, with accents of black and brown and gold toes. His eyelid is light grey, the one eyeball to Kamzo's and one of Jinky's long arms is on top of his back.

 

The Klinkers Max has [[Kamzo]]'s eye, yellow and gray stripes on his face, a yellow mouth with an underbite and three teeth, long gray arms with brown hands that have four gray and yellow fingers to [[Gox]]'s, and big feet to Jinky's but mostly silver. His feet are mostly gray, with accents of black and brown and gold toes. His eyelid is light grey, the one eyeball to Kamzo's and one of Jinky's long arms is on top of his back.

 
+
 
+

==Biography==

 
+

The Max was formed to fight [[King Nixel]] after discovering the [[Mixamajig]] was a hoax. He then Mixed with the other Maxes to form the [[Ultra-Miximum Max]]. ("[[A Quest for the Lost Mixamajig]]")

 
 
 

==Set Information==

 

==Set Information==

 

[[File:Klinkers Max trans.png|left|thumb|Klinkers Max in LEGO form]]

 

[[File:Klinkers Max trans.png|left|thumb|Klinkers Max in LEGO form]]

−

The Klinkers Max can be built using parts combined from [[Mixels (theme)|Mixels]] sets 41536 Gox, 41537 Jinky, and 41538 Kamzo. Extra parts are leftover after construction. Instructions are available on the [[LEGO]] [[Mixels Websites|website]] downloads page.

+

The Klinkers Max can be built using parts combined from [[Mixels (theme)|Mixels]] sets 41536 Gox, 41537 Jinky, and 41538 Kamzo. Extra parts are leftover after construction. Instructions are available on the [[LEGO]] [[Mixels Websites|website]] downloads page.

 
 
 

==Trivia==

 

==Trivia==

 

*There is also a failure of the Klinkers Maxing; the [[Klinkers Murp]].

 

*There is also a failure of the Klinkers Maxing; the [[Klinkers Murp]].

 

*Just like Jinky, this Max's wheel on his head is light gray in LEGO, but black in animated form.

 

*Just like Jinky, this Max's wheel on his head is light gray in LEGO, but black in animated form.

 
+

*In LEGO, he has a tube on his back that can be turned to make his arms rotate.

 
+

*He is the only Series 5 Max not to resemble the Tribe Leader.

 
+

*He is the only Series 5 Max to have 1 eye.

 
 
 

==Gallery==

 

==Gallery==

Line 29:
Line 35:
 
 
 

==External links==

 

==External links==

−

*[http://cache.lego.com/r/www/r/mixels/-/media/franchises/mixels/downloads/wave%205/41536_41537_41538_digital.pdf?l.r2=-1962135059 Instructions on LEGO.com]

+

*[://.lego.com/r/www/r//-/media/franchises/mixels/downloads/wave%205/41536_41537_41538_digital.pdf?l.r2=-1962135059 Instructions on LEGO.com]

 
 
 

{{Maxes}}

 

{{Maxes}}

Line 49:
Line 55:
 

[[Category:Big heads]]

 

[[Category:Big heads]]

 

[[Category:Huge Feet Characters]]

 

[[Category:Huge Feet Characters]]

⚫
 
 

[[Category:Covered eyes]]

 

[[Category:Covered eyes]]

 

[[Category:Moving Fingers]]

 

[[Category:Moving Fingers]]

 

[[Category:Season Two]]

 

[[Category:Season Two]]

 

[[Category:Articulated eyes]]

 

[[Category:Articulated eyes]]

 
+

[[Category:Interactive Features]]

 
+

[[Category:Ball-jointed arms]]

 
⚫
 
+

[[Category:Maxes that can fly]]

 
+

[[Category:Maxes with large hands]]
---
Revision as of 05:27, 26 April 2020
The Klinkers Max is a Max that made its debut in Mixels Rush.
Physical Appearance
Overall, this Max resembles Jinky the most.
The Klinkers Max has Kamzo's eye, yellow and gray stripes on his face, a yellow mouth with an underbite and three teeth, long gray arms with brown hands that have four gray and yellow fingers to Gox's, and big feet to Jinky's but mostly silver. His feet are mostly gray, with accents of black and brown and gold toes. His eyelid is light grey, the one eyeball to Kamzo's and one of Jinky's long arms is on top of his back.
Biography
The Max was formed to fight King Nixel after discovering the Mixamajig was a hoax. He then Mixed with the other Maxes to form the Ultra-Miximum Max. ("A Quest for the Lost Mixamajig")
Set Information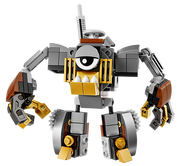 The Klinkers Max can be built using parts combined from Mixels sets 41536 Gox, 41537 Jinky, and 41538 Kamzo. Extra parts are leftover after construction. Instructions are available on the LEGO website downloads page.
Trivia
There is also a failure of the Klinkers Maxing; the Klinkers Murp.
Just like Jinky, this Max's wheel on his head is light gray in LEGO, but black in animated form.
In LEGO, he has a tube on his back that can be turned to make his arms rotate.
He is the only Series 5 Max not to resemble the Tribe Leader.
He is the only Series 5 Max to have 1 eye.
Gallery
Main article: Klinkers Max/Gallery
External links
Mixels Series 5 (June 2015)
LEGO sets
Klinkers
41536 Gox

(Nixel) / 41537 Jinky
/ 41538 Kamzo

Klinkers Max


Frosticon cousins
41539 Krog
(Nixel) / 41540 Chilbo
/ 41538 Snoof

Frosticons Max


Lixers
41542 Spugg
/ 41543 Turg

(Nixel) / 41544 Tungster

Lixers Max

A Quest for the Lost Mixamajig

Stopmotions

Snoof and Tungster Mix! / Junkyard Go-Kart Murp / Lixers Max in the Kitchen!