Line 3:
Line 3:
 

|name = Klinkers Max

 

|name = Klinkers Max

 

|image = [[File:KlinkersS5 Max.png|280px]]

 

|image = [[File:KlinkersS5 Max.png|280px]]

−

|appearances = [[Mixels Rush]]

+

|appearances = [[Mixels Rush]]

 

|firstmixel = [[Gox]]

 

|firstmixel = [[Gox]]

 

|secondmixel = [[Jinky]]

 

|secondmixel = [[Jinky]]

 

|thirdmixel = [[Kamzo]]

 

|thirdmixel = [[Kamzo]]

−

|purpose = Unknown

+

|purpose =

 

|abilities = Can shoot out gears

 

|abilities = Can shoot out gears

 

}}

 

}}
---
Revision as of 00:23, 27 September 2015
The Klinkers Max is a Max that made his debut appearance in Mixels Rush.
Physical Appearance
Overall, this Max resembles Jinky the most.
The Klinkers Max has Kamzo's eye, yellow and gray stripes on his face, a yellow mouth with an underbite and three teeth, long gray arms with brown hands that have four gray and yellow fingers to Gox's, and big feet to Jinky's but mostly silver. His feet are mostly gray, with accents of black and brown and gold toes. His eyelid is light grey, the one eyeball to Kamzo's and one of Jinky's long arms is on top of his back.
Abilities
He can shoot out gears.
Set Information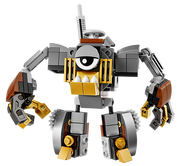 The Klinkers Max can be built using parts combined from Mixels sets 41536 Gox, 41537 Jinky, and 41538 Kamzo. Extra parts are leftover after construction. Instructions are available on the LEGO website downloads page.
Trivia
He is the third cycloptic Max; first being the 2015 Infernites Max, the second being Glowkies Max, and fourth being the Weldos Max.
He has one half-closed eye, like Naut and Turg. He is the first Max to use the half-closed eye piece. The second is the Weldos Max.
He is one of the four Maxes, along with the Electroids Max, 2014 Glorp Corp Max, and Lixers Max, without an opening mouth in LEGO form.
He is the first Max and Mixel to use a gear system; in this case, to move his arms.
He is the second Max to have four fingers, the first was Spikels Max.
He has the largest feet out of all the Mixel characters so far.
Gallery
Main article: Klinkers Max/Gallery
External links