Junkyard Go-Kart Murp[1] is the twelfth episode of the Mixels stop motions. It was released on August 24, 2015 on YouTube.
Synopsis
Jinky and Kamzo are at the junkyard building a go-kart! They think square wheels would work the best on the go-kart. Chilbo points out that the go-kart would not be able to move with square wheels, and tries to replace them. Watch as Jinky, Kamzo and Chilbo argue over the go-kart wheels, and what happens when a cubit gets involved![1]
Summary
Jinky and Kamzo finish constructing a go-kart made out of scrap. Chilbo arrives and suggests using circular wheels instead of edgy ones. Chilbo then swaps out two of the wheels, annoying Jinky. Kamzo suggests they Mix to work things out, but they Murp instead, causing them to both fall over.
Characters
Major Characters
Mixes
Jinky & Chilbo Murp
Videos
Gallery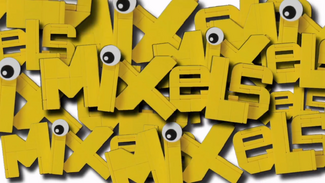 The image gallery for Junkyard Go-Kart Murp may be viewed here.
Sources and References
Community content is available under
CC-BY-SA
unless otherwise noted.