Description
Personality
Shaped like a classic Frender Mixokaster guitar, this Mixel was born to rock Mixopolis! Jamzy might have more confidence than talent, but this one-eyed character never stops trying to entertain.
In Every Knight Has Its Day, he is shown as soft-spoken and relaxed, although he has a tendency to panic at times.
Physical Appearance
Jamzy has a large body that also acts as a head. He is yellow, wide, and he resembles a guitar. Nearly below his body is a purple, six-toothed mouth; three sharp teeth on his bottom lip and three sharp teeth on his upper lip. His gray eyestalk has stripes resembling guitar strings that lead to his headstock that houses three tuning keys and a single eye. His arms are purple and his hands are yellow, with a small portion below his hands. He usually is seen holding a microphone. On the back side of his body, there are two purple spikes. He has short, grey legs that lead to small, flat feet sporting a single purple toe.
In the cartoon, his body is flat instead of rounded, which is reminiscent of a real guitar. His pupil is also thicker.
Biography
Early life
Little is known about Jamzy's past. He became a famous musician and enrolled as a student at Mixopolis Middle School along with his brother Trumpsy.
First adventures
Early on, he made a good friend in one of the new students in his Mixing 101 class; the royal prince of the Medivals named Camillot. Jamzy was on the same team (blue) as Camillot and a Glorp Corp student named Booger in a game of Murpball, and got murpified shortly after helping Camillot learn how to play. When Camillot allowed the blue team to lose, he was angry.
Later, he helped Camillot fight back when the prince's cousin Mixadel caused a Mixeloptor outbreak at the Mixopolis Zoo, being in multiple Mixes. ("Every Knight Has Its Day")
One day, during a music session, Jamzy and his brothers had a noise complaint send to the MCPD by the Medivals over them not playing their music loud enough. After being threatened with arrest, the Mixies started to play louder, and all the tribes started to dance, closing the case. ("Mixopolis Music Mix-Up!")
Further Adventures
During a gig in Mixopolis, Jamzy and Trumpsy went to see The Mixels Movie and its sequel during Tapsy's drum solo that took up multiple hours. ("Mixies Drummer In 5-Hour Marathon Solo")
Jamzy's eye and microphone were blown away by the force of Trumpsy's trumpet. ("Trumpeter Blows Eyes Off Band Members In Solo")
Jamzy and his brothers released an album, titled "Mix'N'Loud", which could only be played in full volume. ("Mixies Band Vows To Blow Away Audience")
Jamzy and his brothers played a prank on the local police. ("The Music Prank")
Memorable Quotes
"I found a max, brick! ...I mean, I found a brick, max!" - Jamzy, Mixopolis Music Mix-Up!
"There's no time like the present." - Jamzy, Every Knight Has Its Day
"Hey, captain! You can't murp anybody if you don't throw the ball! Watch!" - Jamzy, Every Knight Has Its Day
"Wow. Some king you'll be." - Jamzy, Every Knight Has Its Day
"You're not supposed to do that!" - Jamzy, Every Knight Has Its Day
"Lead the way, Castle Boy! I've got your back!" - Jamzy, Every Knight Has Its Day
Set Information
Jam

zy

Information
Series
7
Item Number
41560
Packaging
Yellow bag
No. of Pieces
70
Price
 $4.99


 $5.99
 €3.99
 £2.99
 29.95 kr

In-Booklet Code
None
Jamzy was released as part of the Series 7 Mixels sets in the February 2016 product wave. His set number is 41560 and contains 70 pieces.
The set includes a Nixel with a starstruck expression.
41560 Jamzy can be combined with 41561 Tapsy and 41562 Trumpsy to create the Mixies Max.
LEGO Shop product description
Get set for a guitar riff with Jamzy!
Shaped like a classic Fender Mixokaster guitar, this Mixel was born to rock Mixopolis! Jamzy might have more confidence than talent, but this one-eyed character never stops trying to entertain.
Imagine you're a rock guitar superstar with Jamzy of the LEGO® MIXELS™ Mixies tribe!
Guitar-shaped Jamzy features an opening mouth, cyclops eye and posable joints, plus a microphone accessory element.
Collect all 3 Mixies in LEGO® MIXELS™ Series 7 to build the MAX!
Go to LEGO.com/MIXELS for exclusive building instructions, games, animations and much more.
Watch all your favorite MIXELS™ characters on Cartoon Network.
Stands over 3" (10cm) tall.
Sidebar description
Rock on with guitar-shaped Jamzy, featuring an opening mouth and posable elements, 1 of 3 Mixies featured in LEGO® MIXELS Series 7. Also includes a microphone element.
Background Information
He was one of the first Series 7 Mixels revealed, and was also the first of his tribe to be revealed.
Trivia
Behind the Scenes
Name and basis
Jamzy's name is a play on the word "jam".
Jamzy resembles a guitar. His branding, Frender Mixokaster, is a parody of the Fender Stratocaster.
Voice
In the TV series, and where sound clips are used, Jamzy's voice is provided by Cree Summer.
Real-life history
Early development
Jamzy's LEGO set originally was going to have a baton, as seen at Comic-Con. However, in the final set, it wasn't included to equip Jamzy or the accompanying Nixel.
Reveals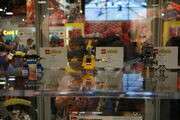 Jamzy was first revealed as a character in the Mixels franchise on July 9, 2015 at San Diego Comic-Con International. Only his LEGO set was shown. Alongside him were Kuffs of the MCPD and Camillot of the Medivals.[1]
On October 11, 2015, official images of the sets of Jamzy and the rest of Series 7 and 8 were leaked in LEGO's online server.[2]
Jamzy reappeared with the rest of Series 7 through 9 at Toy Fairs in late January and early February 2016.[3][4]
Content
Jamzy replaced Flain, Slumbo, Torts, Rokit, Gox and Kramm for Series 7 on the icon for Mixels on the LEGO.com Products page. He was later replaced by Skulzy and finally Screeno.
Jamzy debuted in the TV series on March 5, 2016 in Every Knight Has Its Day, while his LEGO set officially became available on February 1 with the rest of Series 7.
Gallery
Main article: Jamzy/Gallery
Appearances
Games

Other

Mixels Websites

Breaking News

Mixies Drummer in Five-Hour Marathon Solo
Trumpeter Blows Eyes Off Band Members in Solo
Mixies Band Vows to Blow Away Audience

Mini Movies

LEGO Club Magazines
Sources and References
External links
Characters
Mixels

Nixels
King Nixel

/ Major Nixel

/ Muscle Nixel

/ Slap Nixel

/ Boomerang Nixel

/ Cannon Nixel

/ Boxing Nixel
/ Catch Up Nixel
/ Painted Nixels

/ Tentacle Nixel

/ Nixie

/ Nixel Guard
Other Species
Maximum Mixel

/ Mixamals
/ Living Flames

/ Chickens

Mixels Series 7 (February 2016)
LEGO sets
MCPD
41554 Kuffs
/ 41555 Busto
(Nixel) / 41556 Tiketz
(Cookironi)
MCPD Max


Medivals
41557 Camillot
/ 41558 Mixadel
/ 41559 Paladum
(Nixel)
Medivals Max

Mixies
41560 Jamzy
(Nixel) / 41561 Tapsy
/ 41562 Trumpsy

Mixies Max
Stopmotions

Wild Cookeroni Chase in Downtown Mixopolis! / The Music Prank
Community content is available under
CC-BY-SA
unless otherwise noted.