I watch now!




This page is about an episode of the Mixels television series on Cartoon Network. From here, you can also access the gallery and transcript pages for the respective episode.
"Yeah, yeah! Ice cream does make everything better! (licks ice cream cone)"
— Krader
Hot Lava Shower is the third episode in season one of Mixels.
Plot
Official Description
When you need to fix a clogged hot lava shower, it's time for a MAX!
Synopsis
Vulk is taking a shower when it gets clogged. He tells the other Infernites, and Flain suggests they mix into their Max form. They do fix it, but the clog travels through the pipes to the homes of the other 2 tribes. Krader gets burnt on his behind and Teslo burns his mouth. They then both go to the Infernite home and yell at Vulk (who was in the shower) that he burnt them. Vulk apologizes, and treats them to ice cream.
Transcript
For a full transcript of "Hot Lava Shower", click here.
Trivia
This is the second appearance of a Max.
Zorch didn't speak in this episode.
This is the second absence of Zaptor and Volectro. First absence of Seismo and Shuff.
Teslo doesn't zap in this episode, possibly from the lava hitting his mouth.
Memorable Quotes
"You burnt my mouth"
— Teslo
"Yeah, you burnt myself!"
— Krader
Gallery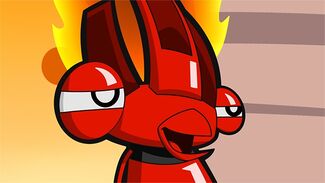 The image gallery for Hot Lava Shower may be viewed here.
Community content is available under
CC-BY-SA
unless otherwise noted.