Hamlogna sandwiches are food from Mixel Land. Most applicable to [[1]] and [[2]] who love to eat these sandwiches.
Description
Hamlogna sandwiches, being a mix of ham and bologna sandwiches, have meat that looks more like bologna, rather than ham and bologna combined. The sandwich also usually has tomatoes and lettuce in it. The meat is pink, though it is sometimes portrayed as red.
In LEGO form, it is made with a 2x2 pink circular plate in between two 2x2 tan tiles, as seen in a stop motion video.
Background
Flain hopes there are hamlogna sandwiches at a party.
While the other Electroids were trying to find a light bulb, Zaptor found a hamlogna sandwich and asked if it could help.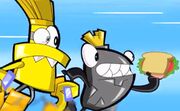 When Shuff and Volectro were running from the Nixels, Volectro asked Shuff if he had a Cubit. Shuff said he did, but pulled out a hamlogna sandwich instead and mentioned Zaptor, questioning why he had the sandwich in his possession.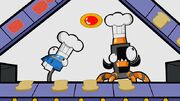 Tentro and Lunk were making many hamlogna sandwiches on a conveyer belt. Zaptor sees the sandwiches come out of a giant tube, and gets excited. He changes the settings on the conveyer belt from "slow" to "fast", overwhelming the two workers. Eventually, many come out of the tube. As Zaptor goes to eat them, Jawg walks by and devours the whole pile in one bite, making Zaptor get what he had coming.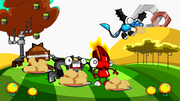 In Epic Comedy Adventure, Zaptor eats all of the sandwiches at the Mix Festival, causing everyone to get angry with him and go to find more; this instigates the main plot.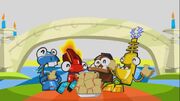 Later, in Murp Romp, Flain, Zaptor, Chomly, and Lunk are seen eating hamlogna sandwiches at a picnic, before the Wiztastics show up to advertise their show.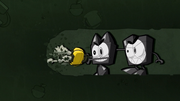 Fossilized hamlogna sandwiches are seen underground when the Nixels are digging under the Mixel Moon.
Trivia
It is proven to never be helpful for anything.
Hamlogna sandwiches are famous in the show for their appearances and are a running gag in the series. They are more common than any other food so far, and have their own episode.
They look different in Hamlogna Conveyer Belt Madness. Instead of having lettuce, tomato, and other toppings, they are simply made of two slices of bread and hamlogna slices.

It is possible that the Mixels could add toppings to it after they receive the basic version.

Mixels Rush was originally set to have a hamlogna sandwich item in the game, but it was removed from the final game. It is unknown what the ability of it would have been.[1]
Gallery
Main article: Hamlogna Sandwich/Gallery
Sources and References