Hamlogna Conveyorbelt, titled by Cartoon Network as Hamlogna Conveyor Belt Madness, is the sixteenth episode in the first season of Mixels. It first aired on June 5, 2014.
Synopsis
Teslo cranks the hamlogna conveyorbelt while Flexi and Lunk scramble to keep up with the madness. [sic] [1]
Episode Summary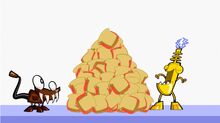 Zaptor wants more hamlogna sandwiches, so he makes the conveyer belt go faster. Well, a bit too fast for Lunk and Tentro to handle until they Mix to make the sandwiches even faster. Zaptor is about to eat the huge pile when Jawg eats them, leaving Zaptor upset as the episode ends.
Transcript
For a full transcript of "Hamlogna Conveyor Belt Madness", click here.
Characters
Major Characters
Minor Characters
Mixes
Trivia
This is Tentro's first appearance.
It is shown here that Zaptor's sensation for hamlogna sandwiches is, in fact, almost uncontrollable.

It is shown here that Jawg likes hamlogna sandwiches just as much as (if not more than) Zaptor.

The hamlogna sandwiches have a slightly different appearance in this episode than on the other episodes. In its two previous appearances, these had tomatoes and lettuce, while in this episode, the tomatoes and lettuce are absent.
This is the first episode where Jawg speaks.
This episode aired as part of Cartoon Network's Ninjago Day marathon on November 22, 2014.
Footage from this episode was used in The Wonderful World of Mixels.
Broadcast
This episode and "Snow Half Pipe" aired on June 5, 2014 directly following the Teen Titans Go! episode, "Puppets, Whaaaaat?" and received a total of 1.986 million viewers.
Continuity
Errors
Zaptor's pupils clip through his lower eyelids in the final shot.
When Zaptor glances at the lever the second time, his middle tooth is smaller than the other two. It happens again when he pulls the lever.
Some promotions of the episode spell "conveyor" in the title as "conveyer".
The plate disappears after Jawg eats all the sandwiches, unless Jawg has also eaten the plate.
When Tentro is spun in the cup, his chef hat is on a separate layer than the rest of his head and is not lined up with his head.
Lunk's spikes are missing for nearly the entire episode, only reappearing when he and Tentro Mix.
When the hamlogna conveyer belt starts to speed up, one piece of hamlogna momentarily stops moving on the end of the hamlogna conveyor belt.
Allusions
I Love Lucy - Lunk and Tentro at the conveyer belt making sandwiches is similar to I Love Lucy. An episode of this classic TV series had a chocolate factory scene with a rapidly moving conveyer belt.
​Memorable Quotes
"SANDWICHES! SA-ANDWICHES! ...sandwiches?"
— Zaptor
"Hamlogna zzandwich!"
— Zaptor
Video
Gallery
Gallery

Click here to view this page's gallery.
Sources and References
Mixels Series 2 (June 2014)
LEGO sets

Frosticons
41509 Slumbo

(Nixel) / 41510 Lunk

/ 41511 Flurr


Frosticons Max


Fang Gang
41512 Chomly

(Nixel) / 41513 Gobba

/ 41514 Jawg


Fang Gang Max


Flexers
41515 Kraw

/ 41516 Tentro

/ 41517 Balk
(Nixel)
Flexers Max

Wrong Colors / Nixel "Mix Over" / Bar B Cubes / Snow Half Pipe / Hamlogna Conveyor Belt Madness / Vaudeville Fun / Fang Gang Log Toss / High Five / Elevator

Stopmotions


Jawg & Lunk Murp / Kraw & Flurr Mix! / Gobba & Tentro Mix!
Community content is available under
CC-BY-SA
unless otherwise noted.