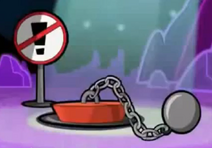 The
Gravity Plug
is a large cork, blocking a hole in the floor of the
Glowkie Caves
.
Abilities
When it is pulled, Mixel Moon and the rest of the universe, gets sucked into the void of space and disappears.
Trivia
It appears to be jammed in deep, as Burnard was not strong enough to pull it up and had to Mix with Rokit to pull it.
There is a song about it, warning about the dangers of pulling it.