Warning! This page is Glowkie territory.


MIX! The page you are about to view has something to do with the glow-in-the-dark Glowkies. They have the ability to glow in the dark at night, as seen in their sets.
"Oh boy, oh boy, oh boy! I've got one muck!"


This page is about a food or object found in the Mixels Land. It is considered canon in the Mixels franchise and may or may not be a mix of two real life objects.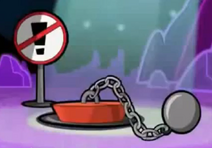 The
Gravity Plug
is a large cork, blocking a hole in the floor of the
Glowkie Caves
.
Trivia
When it is pulled, everything on Mixel Moon, including the moon itself, is sucked into the void of space and disappears.
It appears to be jammed in deep, as Burnard was not strong enough to pull it up and had to Mix with Rokit to pull it.
There is song about it.