Were you looking for Gobba?
Description
Personality
Once the other Trashoz tribe members have cleared the lighter trash, this Mixel takes care of the really big stuff. Gobbol can gulp down just about anything with that double-opening mouth. But don't be fooled—this dumpster on wheels is actually rather intelligent and doesn't talk too much rubbish!
Physical Appearance
Gobbol is mostly green in color. He resembles a dumpster, with a large body, and a grey lidded top that is split in two, each half holding an eye. One half has two flat teeth, while the other half has only one. His bottom jaw has five pointed teeth in it. He has long arms with yellow details and pincer hands. He is on two pairs of wheels for feet.
Biography
Early life
Little is known about Gobbol's past.
First adventures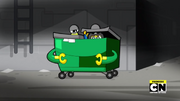 Screeno and Myke hide inside of Gobbol during a Mix TV news report, just as the Nixels invade Mixopolis.
He is later seen cleaning up the Nixels that are left in Mixopolis with his brothers Sweepz and Compax. ("Nixel, Nixel, Go Away")
Gobbol and his brothers found a new home. ("Garbage Mixels Find New Home")
While the Nindjas were training, Gobbol and his brothers interrupted them, this led to both trios Maxing and the Trashoz Max eating the Nindjas Max. ("Nindjas vs. Trashoz")
Gobbol and his brothers prepared for Halloween. ("Get Those Rotten Fish Ready - It's Halloween!")
Out of nowhere, a banana peel fell on top of Gobbol and his brothers. ("Banana Peel Drops On Garbage Mixels")
Gobbol chased after a Nixel at high speed, seeking the rotten fish the Nixel was holding. The Nixel eventually hid in the sewers for protection. ("Garbage Mixel Eats A Rotten Fish")
Set Information
Gobbol was released as part of the Series 9 Mixels sets in the October 2016 product wave. His set number is 41572 and contains 62 pieces.
The set includes a Nixel with dirt stains.
41572 Gobbol can be combined with 41573 Sweepz and 41574 Compax to create the Trashoz Max.
LEGO Shop product description
Swallow tons of garbage with Gobbol!
Wheel into trash-clearing action with Gobbol, the Trashoz tribe member with a double-opening mouth and dumpster body to swallow even the oddest-shaped garbage. This lovable, posable Mixel figure comes with 2 fish elements that fit in its mouth. For more building and role-play fun, collect all 3 Trashoz featured in LEGO® MIXELS™ Series 9 to create the MAX.
Keep the streets of Mixopolis clean with Gobbol, the LEGO® MIXELS™ Trashoz tribe member who can digest just about anything.
Gobbol features a garbage dumpster body, a large double-opening mouth, 4 wheels and posable joints, plus 2 fish elements that can fit in the mouth for extra play.
Collect all 3 Trashoz in LEGO® MIXELS™ Series 9 to build the MAX!
Go to LEGO.com/MIXELS for exclusive building instructions, games, animations and much more. Ask your parents' or guardians' permission before going online.
Watch all your favorite MIXELS™ characters on Cartoon Network.
This set includes an age-appropriate building experience for ages 6 and over.
Stands over 2" (6cm) tall.
Trivia
He has eight teeth in his cartoon form, yet he has nine teeth in his LEGO model.
He is much bigger in the show than in LEGO form, as Myke, Screeno and Kuekard could fit inside of him.
He is the only one of his tribe not to have a special cleaning tool based on what he is based on.
Behind the Scenes
Name and basis
Gobbol's name is a misspelling of "gobble".
Gobbol resembles a dumpster.
Voice
In the TV series, and where sound clips are used, Gobbol's voice is unknown.
Real-life history
Reveals
Gobbol appeared with the rest of Series 7 through 9 at Toy Fairs in late January and early February 2016.[1][2]
Content
Gobbol debuted in the TV series on October 1, 2016 in Nixel, Nixel, Go Away, while his LEGO set officially became available on October 1 with the rest of Series 9.
Gallery
Main article: Gobbol/Gallery
Appearances
Sources and References
External links
Characters
Mixels

Nixels
King Nixel

/ Major Nixel


/ Muscle Nixel

/ Slap Nixel

/ Boomerang Nixel

/ Cannon Nixel

/ Boxing Nixel
/ Catch Up Nixel

/ Painted Nixels

/ Tentacle Nixel

/ Nixie
/ Nixel Guard

/ Nixel Amalgamate

Other Species
Maximum Mixel

/ Mixamals

(Mixie Cat

)/ Living Flames

/ Chickens
Mixels Series 9 (October 2016)
LEGO sets
Trashoz
41572 Gobbol
(Nixel) / 41573 Sweepz
/ 41574 Compax

Trashoz Max

Nindjas
41575 Cobrax
(Nixel) / 41576 Spinza
/ 41577 Mysto

Nindjas Max

Newzers
41578 Screeno
/ 41579 Camsta
(Nixel) / 41580 Myke

Newzers Max

Stopmotions

Nindjas vs. Trashoz / Nindja in an Epic Ice Sculpture Fail