Were you looking for the Mix?
Gobba & Tentro Mix[1] is the sixth episode of the Mixels stop motions. It was released on November 17, 2014 on YouTube.
Synopsis
Balk, Gobba and Tentro are having a diving contest! Will Balk and Tenro's mix will impress the Nixel judges?[sic][1]
Summary
Balk, Gobba and Tentro take part in a diving contest. Balk receives a total score of 3.5 from the Nixel judges. This annoys Tentro, who climbs up the ladder with Gobba and Mixes with him. The Mix dives into the pool and makes a massive splash, which washes away the Nixels.
Characters
Major Characters
Minor Characters
Mixes
Gobba & Tentro Mix
Trivia
This is the first time Nixels are seen not physically attacking Mixels, instead acting as judges.
Errors
Balk is erroneously referred to as the one that Mixes with Tentro instead of Gobba in the description.
Tentro's name is misspelled as "Tenro" in the synopsis at one point.
Videos
Gallery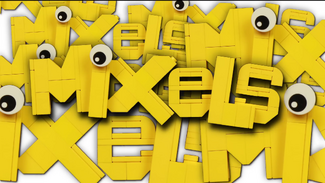 The image gallery for Gobba & Tentro Mix! may be viewed here.
Sources and References
Community content is available under
CC-BY-SA
unless otherwise noted.