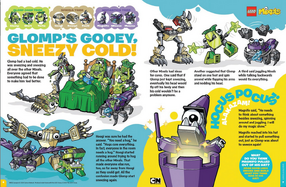 Glomp's Gooey, Sneezy Cold! is a short story in the September/October 2014 issue of the LEGO Club Jr. Magazine. As such, it is meant to be simple enough for younger children to comprehend.
Synopsis
Glomp is sick in bed, and all of the other Series 3 Mixels are surrounding him. They all try to make him stop sneezing. Hoogi suggests hugging, but everyone else is too scared to hug him and run away. Other ideas include sneezing until his head flies off, standing on one foot while spinning around and flapping his arms, and juggling Nixels while talking backwards. Finally, Magnifo tries to put an end to the sneezing by pulling something out of his hat, and the reader has to determine what it is that he pulls out.[1]
Characters
Main
Minor
Cameos
Trivia
This is the first time a Mixel is shown being sick or ill.
It is unknown how Glomp got sick so badly, as he always has a mild permanent cold.
Gallery
Reference