The Frosticons Max is a Max that made its debut in Mixels Rush.
Physical Appearance
Overall, this max bares a slight resemblance to Krog.
The Frosticons Max 2015 has a rectangular head with three teeth, a nose, Chilbo's eyes and one of Krog's ice shards from his icy eye on top. His hands are blue with light blue claws and black palms with a blue circle in the middle of each. He also has a torso similar to Slumbo's, except he has dark blue lines, a small sharp triangle piece, and Krog's bottom teeth. His arms are grey with blue stripes. He has blue feet with dark blue large toes and light blue smaller toes, with Krog's other ice shards behind them.
Biography
The Max was formed to fight King Nixel after discovering the Mixamajig was a hoax. He then Mixed with the other Maxes to form the Ultra-Miximum Max. ("A Quest for the Lost Mixamajig")
Set Information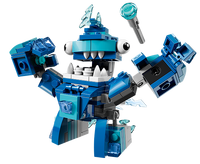 The Frosticons Max can be built using parts combined from Mixels sets 41539 Krog, 41540 Chilbo, and 41541 Snoof. Extra parts are leftover after construction. Instructions are available on the LEGO website downloads page.
Trivia
He somewhat resembles a polar bear or a yeti.
He has exactly the same teeth as Krog, though he uses two extra stud pieces for them in his LEGO model.
For one reason or another, he does not appear in A Quest for the Lost Mixamajig. Although, he can be seen at the keyhole congregation scene as a background Mixel.
In animated form, his fingers are light and dark blue, but in LEGO, they are dark and trans blue.
Gallery
Main article: Frosticons Max/2015/Gallery
See also
External links
Mixels Series 5 (June 2015)
LEGO sets
Klinkers
41536 Gox

(Nixel) / 41537 Jinky
/ 41538 Kamzo

Klinkers Max


Frosticon cousins
41539 Krog
(Nixel) / 41540 Chilbo
/ 41538 Snoof

Frosticons Max


Lixers
41542 Spugg
/ 41543 Turg

(Nixel) / 41544 Tungster

Lixers Max

A Quest for the Lost Mixamajig

Stopmotions

Snoof and Tungster Mix! / Junkyard Go-Kart Murp / Lixers Max in the Kitchen!
Community content is available under
CC-BY-SA
unless otherwise noted.