The Frosticons Max is a Max that made its debut in A Quest for the Lost Mixamajig.
Physical Appearance
Overall, this Max resembles Slumbo the most.
The Max's head resembles Slumbo's body upside down with his eyes on it. His neck is two shades of blue and his body. His bottom jaw has two buck teeth and has ice on the side of his jaw. His arms are similar to Slumbo except the blue spikes on them. He has Flurr's toes and Lunk's ice armor. He also has a tail similar to Flurr's and he also has Slumbo's hands.
Abilities
He has the ability to create giant snowballs using his frozen hands
He can also use his ice breath to fly.
Can shoot ice from his feet to fly, as shown in A Quest for the Lost Mixamajig
Set Information
The Frosticons Max can be built using parts combined from Mixels sets 41509 Slumbo, 41510 Lunk, and 41511 Flurr. Extra parts are leftover after construction. Instructions are available on the LEGO website downloads page.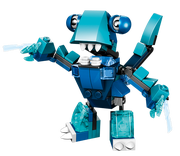 Trivia
He is the second Max to have elemental breath, the first being the Infernites Max.

Unlike the Infernites Max, he is able to use his elemental breath to fly.
He is the only Series 2 Max to not use the Technic ball eyes. Also, he is the first Max to use minifigure head eyes, second being Wiztastics Max and third being Orbitons Max.

This Max isn't present in Mixels Rush, due the 2014 members not appearing in the game.
This is the second Max to use elemental claws or hands, the first being the 2014 Infernites Max and the third being the 2014 Glorp Corp Max.
He is one of the six Maxes with sharp toes, with the other 5 being the Fang Gang Max, the 2014 Glorp Corp Max, the Spikels Max, the 2015 Glorp Corp Max and the MCPD Max.
Gallery
Main article: Frosticons Max/2014/Gallery
See also
External links
Community content is available under
CC-BY-SA
unless otherwise noted.