Frosticons Max

Forms
Information
Appearances
Mixels.com
Primary Mixel
Flurr
Secondary Mixel
Slumbo
Tertiary Mixel
Lunk
Purpose(s)
 ?
Ability(ies)
Ice breath
Can make a giant snowball
The Frosticons Max is a Max that has not appeared in the cartoon yet, but has appeared on Mixels.com.
Physical Appearance
Overall, this Max resembles Slumbo the most.
The Max's head resembles Slumbo's body upside down with his eyes on it. His neck is two shades of blue and his body. His bottom jaw has two buck teeth and has ice on the side of his jaw. His arms are similar to Slumbo except the blue spikes on them. He has Flurr's toes and Lunk's ice armor. He also has a tail similar to Flurr's and he also has Slumbo's hands.
Abilities
He has the ability to create giant snowballs using his frozen hands
He can also use his ice breath to fly.
Set Information
The Frosticons Max can be built using parts combined from Mixels sets 41509 Slumbo, 41510 Lunk, and 41511 Flurr. Extra parts are leftover after construction. Instructions are available on the LEGO website downloads page.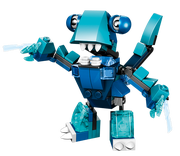 Trivia
He somewhat resembles an icy lizard.
He is the second Max to have elemental breath, the first being the Infernites Max.

Unlike the Infernites Max, he is able to use his elemental breath to fly.
He has the most powers amongst the Maxes.
He is the only Series 2 Max to not use the Technic ball eyes. Also, he is the first Max to use minifigure head eyes, second being Wiztastics Max and third being Orbitons Max.

This Max isn't present in Mixels Rush
This is the second Max to use elemental claws or hands, the first being Infernites Max/2014 and the third being Glorp Corp Max/2014
This is the second max to have a big head. The first being Electroids, third being Glorp Corp, fourth being Lixers.
Gallery
Main article: Frosticons Max/2014/Gallery
See also
External links